The Rootsman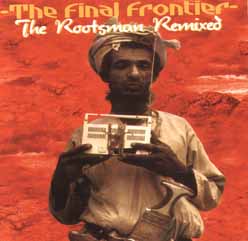 Artist : The Rootsman
Title : The Final Frontier-The Rootsman Remixed
Label : Third Eye Music
Release Date : Out Now
Format : CD/LP

'The Final Frontier' is the lastest instalment in The Rootsmans occasional series of remix albums. This time we're treated to his music being remixed by among others Oochi, The Disciples and Zion Train.
All tracks here are reworkings of songs lifted from the last Rootsman album '52 Days To Timbuktu'. Most of the afore-mentioned albums tracks are given a going over with some receiving the attention of two or even three different remixers.
Highlights include the albums opener 'Bad Boy Buisiness' (reality mix) A radical reworking of the previously jungilist stormer. Remixed here by Strongpoint it's given a more soulful feel and features a lovely vocal by (ex unique 3) Karin Minott. An element that brings to mind some of Reprazents's more thoughtful moments.
'The Final Frontier' also features no less than three different re-versions of an original favourite 'Mother of nature'. I particuarly like both the 'The Universal mix' by Oochi and what I'll call The Disciples 'Secret Bonus mix'. Both Versions have an excellent future-dub feel with The Disciples plotting a more traditional/rootsical course, while Oochi makes for the hills with an impressive steppers/almost hardstep version.
Both 'The Final Frontier' and The Rootsman in general are best summed up by quoting a sample used within Nigel Parkers wonderful stripped Hip-Hop reworking of the track 'Cheb ragga', "Musicians today see music as a field that is wide open fo study, for devotion and for the desire to be able to play anything". Need I say more.
Bimble
Rootsman : '52 Days To Timbuktu' CD review