The Rootsman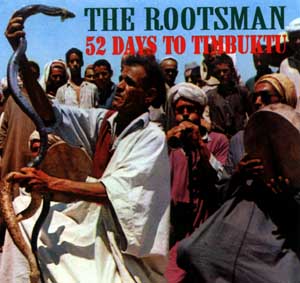 Artist : The Rootsman
Title : 52 Days To Timbuktu
Label : Third Eye Music
Release Date : Out Now
Format : CD/LP

I've long been impressed by the Rootsman's uniqueness. Rootsman is a fusionist, blending style, beats and cultures from the world's faraway places, mixed up with his own brand of digital stylee beats.
D.J's: drop 'Mother Of Nature' at the right moment and you'll have your dancefloor reaching for the stars. For home listeners, '52 Days' as a whole works wonderfully, though personally I would have preferred the reworked versions to be tacked-on the end rather than immediately after the previous versions. To my mind, this disturbs the flow. Having said that, I would never change 'Aghat' from it's closing section on the album as it serves as '52 Days's' nine-and-a-half-minute finale. A truly hypnotic piece which builds for a full three minute's before the sublime bassline finally drops in. A totally captivating tune.
Other personel highlights include : 'Tribute To Hassni' a floating, thought-provoking, transcendental affair. Also 'Balkan Blues' a tune that'll have the spliffheads pinned to the floor in a hazy, sunshine, smoksical way. And lastly, I couldn't ignore the breakbeat culture that is 'Bad Boy Business', a total departure for this album, being a junglist, drum-and-bass stylee thang complete with rolling b-lines. An instant floor-filler, for sure.
To sum up, I'd say '52 Days To Timbuktu' gives you a sense of the wide-open spaces on this planet. The Rootsman is producing music for the mind, body and soul of the highest order. So if there's any justice in this world, we'll be hearing this album everywhere.
Bimble 98
Rootsman : 'The Final Frontier' CD review